How to organize important documents at home is a vital adulting skill that most of us should learn, early on in our twenties.
Actually, it's vital to know what are considered to be important documents and that you should take care of them. And then comes the easy part of actually learning how to organize important documents at home.
If you're reading this, then you're probably in need of help in this area. So let's find out how to organize important documents at home:
What are important documents & why you should keep them
Important documents are documents that prove
Life Events
Property & Assets
Finances
Educational background
Health information.
This is vital information that you should have access to at all times, because it is proof of your existence and experience, and what exactly you own and are entitled to.
Because of that, you are expected to provide them to any institution / organization that requires them to complete an action or transaction for you.
For example, a bank will require identification and other finances documents in order to open an account, deplete it or share its contents to family members, if the bank account owner dies.
How to organize important documents
Step 1: Have a special spot for all the important documents
Now that we've determined what constitutes an important document, it's time to learn how to organize important documents.
The first and most important answer is simple: put them all in one place. That way, you don't have to run around the house, trying to figure out where you put the car papers, or where your passport is. You also don't risk losing them, or not finding them in time, because they will all be in one place.
A drawer or a cabinet is the best solution for this. It also depends on the size of your family and / or your assets. If you're a student just out of college and into your first apartment, then you will probably need just a drawer. But if you're a family of 4 and you already have a house for which you are paying a mortgage, then you should consider having a special cabinet for them.
I recommend having this drawer / cabinet in the office, but if you don't have an office, the second best place is the bedroom. And yes, you might find it weird, but personally, it's reassuring to me to know they are close to me during the night, just in case, God forbid, you have burglars. I know, I'm weird, that's just how my mind works.
Step 1 is complete, we've established a space for it, so let's see exactly how to organize important documents.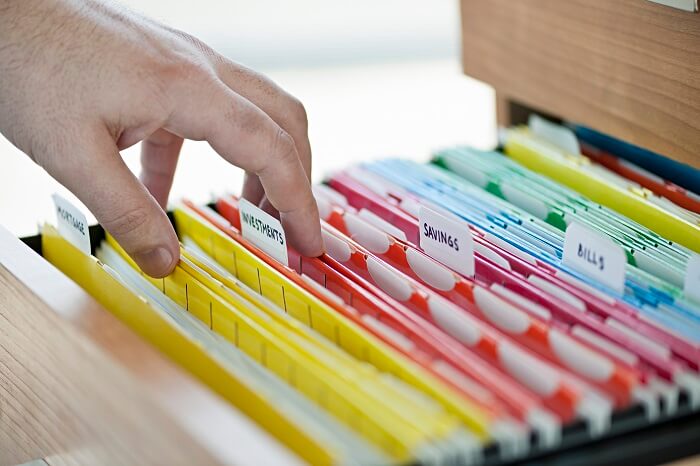 Step 2: Organize important documents by person / asset
The second step in knowing how to organize important documents is to actually properly organize them.
That's why I strongly recommend having a dedicated folder to each person, and one for each of your other big assets, such as the car, the home or your finances.
The folder technique helps you properly separate categories of important documents and make them easier to organize and find. You can find a full list of categories (with examples of Important Documents) below.
After you've split the important documents into folders according to the checklist below, then you have to arrange them in the drawer or cabinet.
Start by clearly marking them with a marker or sticky note or labels, so you know which is which. Then you can arrange them by name, order of importance, even color, whatever you want.
Personally, I have 4 or 5 folders, all in separate colors, and all have its category name on the front, written with a Sharpie.
And that's about it. It's not so hard, is it?
EXTRA TIP: Keep copies of the most important documents on hand, like ID, birth certificates, etc, some companies ask for them when applying for different things.
Important documents checklist
Before you go, please download or reference the important documents checklist below, in order to properly create your folders. Feel free to reorganize as you wish, the important things is that YOU know where each document is located.
I hope this article on how to organize important documents in your home was useful for you! Let me know in the comments how you organize your documents.
p.s. If you're in the process of organizing your home, see these posts about How to declutter your home and How to keep a tidy home.