If you're looking for extra income, an easy way to make money fast is to declutter and sell your stuff online (or at yard sales, etc.).
Decluttering can also help you
Tidy up your house;
Organize your space better;
Make room for other things;
Get rid of things you don't need or want anymore.
Not only that, but decluttering can also save you money, but more on that later.
The most important thing you can do now is to plan and execute a decluttering process in your home.
Trust me, it will make a huge difference in your environment and it will be beneficial for your mental state, as well. Less stuff, less things to clean / put away / wash, and so on.
Here we go!
How to declutter your home – the process
I actually have an entire dedicated post on How to declutter your home, which you can find the link for it here.
But here are the main principles and actions you need to take so you can best declutter your space:
Start by writing down each room of your house.
Then write at least one area that can be decluttered in each room.
Step 3 is to add the decluttering process in your daily schedule, by scheduling one room at a time. Today, the bedroom. Tomorrow, the pantry. And so on.
Start with room 1. Make sure to tidy the room so you have enough space to move around and organize.
Choose a small area or corner and start getting things out.
After the area is cleared, wipe the surface down and put back in the things you are keeping.
Then go through the separate pile and put away the things you don't want anymore in dedicated bags (donate, throw away, sell).
Then start with area or room 2, and continue the process.
In order for this to work and for you to finish the process, you need to
Be patient and thorough when decluttering each area. Go through each item and really think about it: do you actually need to keep it?
Have dedicated bags ready for the things you will be decluttering, so you can easily organize and dispose of them after you're done decluttering. In this case, a bag for trash, one for donations, and for the things you will sell.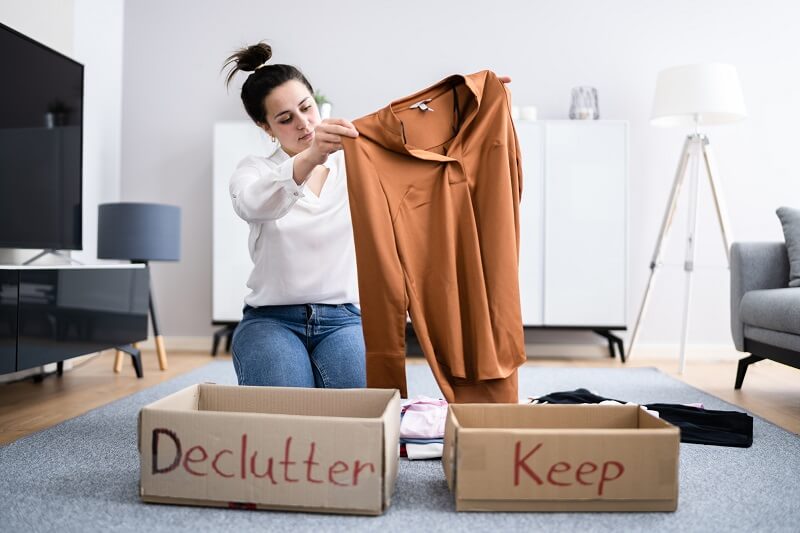 Where to sell your stuff
You've done it! The decluttering process is over and you've probably accumulated multiple bags of stuff to sell (or donate / throw away).
Now it's time to figure out where to sell your items for the best return on investment. Here are the top online places, and one offline spot, where you can get rid of your stuff and make some money out of it:
1. Sell clothes on Poshmark / Mercari 
This is the perfect place to sell new and used items in good condition. Think shirts, sweaters, skirts, dresses, even handbags and shoes. Some sites also accept beauty, home decor and electronics.
The process is pretty straight-forward: create an account, create a product page, put all the info, like pictures, sizes, price, etc. The "hardest part" will probably be to find time to go to the post office and mail the products when they are bought.
Win-win! You get rid of an item you don't want or need, and get some money back, and the buyer gets the item he/she wants, at a lower price.
Click now for more info on selling on Poshmark and selling on Mercari. 
2. Sell luxury items on Vestiaire Collective 
If you want to get rid of expensive or luxury clothing items, Vestiaire Collective is the place to go.
There are so many people worldwide who hunt for bargains and second hand luxury items on it, and who will pay a good price for them.
So if you have a Chloe bag, or Balenciaga shoes, this is the website for you.
Here is more info on how to sell on Vestiaire Collective. 
3. Sell other items on Facebook marketplace on Craigslist (like furniture, books, etc)
For me, Facebook marketplace is the perfect place to declutter and sell stuff, specifically miscellaneous items, so things like furniture and/or books.
Especially furniture! I've heard so many people buy home decor and home items from it, so if you want to sell your old couch or dining room table, definitely check out Facebook Marketplace.
The platform is pretty easy to use, you just need a Facebook account, and pictures of your products.
4. Sell things in yard sales 
I love this method because it's the best when you need to declutter and sell your stuff fast.
Instead of listing each item online and dealing with shipping things multiple times, you can organize a yard sale and sell everything in one go. Less hassle overall, more time for you.
Here is a great guide on what to sell at a yard sale. 
How to save money by decluttering
And now for the best part of the article. You know you can declutter and sell stuff, but did you know you can also declutter and SAVE money? Let me show you how!
This solution is great for people who
Decluttered too many items that cannot be sold;
Don't have clothes or miscellaneous items to declutter;
Have a fully stocked pantry;
The last part is important, because the way to declutter and save money involves your pantry.
Here is the gist: One weekend / month, eat and cook with ONLY what you already have in the pantry and freezer. So that means you won't need to go spend money on groceries and take-out.
This is a great idea, because not only it will stop you from spending more money, but it will also encourage you to use up your pantry items that you might have forgotten about.
And that's important because the pantry items do end expiring and you don't want to waste money by waiting until after their expiration date to use them, right?
So go now and take an inventory of your pantry and freezer, and see what you can use up. Look for meat, frozen vegetables, canned vegetables, sauces and grains like rice and quinoa. Now it's time to use them.
If this sounds familiar, it's because it's called Shelf cooking! Jordan Page on YouTube does it! 
Conclusion
If you want to make money and save money, it's time to declutter and sell stuff! The 4 options mentioned above (Poshmark, Vestiaire Collective, Facebook Marketplace and yard sales) are great places for you to get rid of your unwanted items. And shelf cooking will help you save tens and hundreds of dollars a month.
Let me know in the comments which works for you best!