As useful as it is on holidays, luggage suddenly becomes a hassle while not travelling, especially if you live in a small apartment or house. Because, well, how do you store luggage?
If you're wondering that, then you desperately need to find space for your travel bags. Those bags that kept you company during your vacation, but now occupy your hallway or bedroom floor space.
I've been in that situation, trust me, so I'm here to help you out with at least 6 spaces you can try to fit your luggage in.
You might not physically have some of the spaces I mention (garage, attic), but I'm sure you can definitely find a spot out of the remaining suggestions, some are pretty innovative…or at least, you definitely didn't think of them first hand.
So let's find out how to store luggage and tips & tricks on how to organize luggage.
1. Under the bed
This is applicable, of course, if your bed has space underneath it.
Which most do, but some beds are very low, and others are closed off, so it doesn't allow space for other stuff.
So if you do have a bed and you can store luggage under the bed, definitely go for this option.
I recommend this place if your house is really small and you need the rest of the suggestions (closet, stairs) for other items.
If you want to use it to its maximum potential, you could store other bags or clothes in them, while you're at it, but more on that later.
2. In the closet
Out of all the options of how to store luggage that are mentioned in this post, this is ideal, in my opinion. It's close by (not all the way in the garage) and you don't need to make an effort to get it out (attic).
If you have a walk-in closet, you can store the luggage underneath a high rack of hangers. Or somewhere in a corner. Or on top of the racks. Anyway you can and it doesn't interfere with your daily activities.
If you have a simple closet, you can, similarly, put it below some high racks of hangers, or in a dedicated space, if you have it.
3. In the attic
This is one of the suggestions I was unsure of. Do people still have attics? Do they still use it? I know there are still houses out there with attics, so I decided to add it, in the end.
Storing your luggage in the attic is great because it doesn't occupy any house spaces that you could use for other items. Plus, it's out of mind, out of sight.
It is put in a designated spot and it doesn't bother anymore.
The downside of putting things in the attics is that it's harder to get there and maneuver things around. It's not as easy as opening a door and getting the bags. You will probably need to climb some stairs, duck under ceilings, and so on. But overall it does save space inside your actual house in which you live.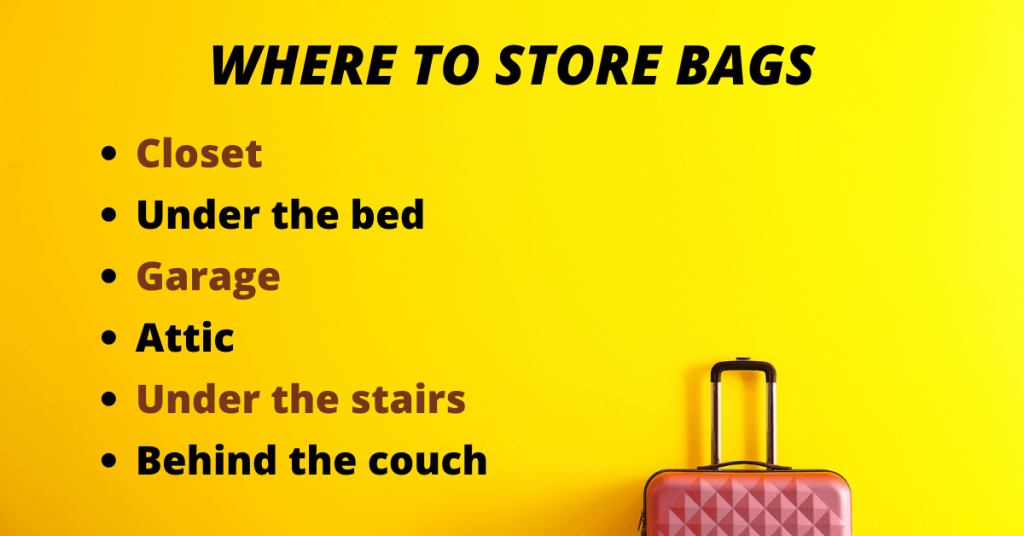 4. In the garage
Another place not a lot of people might own, but that is very handy to have, including for luggage storage, is the garage.
This would be ideal because you are not occupying actual home space. So the house is not as crowded, and you have more space for other things.
Just make sure you store the luggage correctly, but more on that later, in the tips & tricks section.
5. Underneath the stairs
If you have a house with more than one floor, then you definitely have stairs. Considering how they are built, there is, in most cases, free space underneath the stairs.
The problem is people don't usually know what to put there. Well, here's an option: store luggage.
The bags usually fit under the stairs, and you will probably still have space left for other boxes or items.
This storage option is my second favorite of the list (after closet), because it's still in the house, but in a space you don't usually use, therefore it doesn't feel like it's occupying too much space.
6. Behind the couch (or other furniture items)
People with small homes completely understand when I say storage spaces are extremely important and knowing how to organize items in them is definitely a valuable skill.
If this is your issue, then let me present to you another storing option for luggage: behind a couch or other big furniture piece.
I saw this at my aunt's house when I was younger, and I thought it was genius. The shape of the couch was a key factor in this arrangement, because it had a deeper, more inclined backrest section. And since it was positioned against a wall, they just pushed a bit farther from it, so they had more space to work with (and hide things behind).
You should consider this option in your home, too, especially if you have a large living room.
Tips & Tricks On How to Store Luggage
Ideally, get a dust bag for luggage

. A dust bag (or even just a large garbage bag) will help the bag stay clean and not collect any dust that you will have to wipe off every time you go on vacation. 
Smaller bag in bigger bag. This is a great trick I actually thought of when I took my first transatlantic trip. I put my 20lb carry-on bag, full with all my clothes, shoes, toiletries, etc, in my big 50lb bag and checked it in. That way I didn't have to carry around the airports an empty bag, but I had space for my new purchases when I returned. Similarly, you can do the same with your empty luggage. Put the smaller one in the bigger one, so this way, you only have to store one bag, not two. 
Conclusion
If you were wondering how to store luggage, I hope this article was useful to you and you got at least 1 new spot idea to work with.
For more decluttering and organizing solutions, check out these blog posts: