How to lose weight is a topic that most women (and men) have been dealing with for decades, especially since obesity became a worldwide problem and the nutrition category expanded to too many sweets and processed foods. Add to the mix social media and social pressure, and the physical issue becomes a mental one, too.
I think people want to learn how to lose weight for different reasons:
Self confidence;
For health reasons;
Mental health;
For special occasions;
To be able to perform better in a particular sport, and so on.
That makes them vulnerable, and sometimes even desperate, so they are willing to try anything to make it happen.
Unfortunately, companies have found a way to take advantage of that vulnerability: they sell many products and services that most of the time are useless or even harmful to people looking to lose weight. I know I have tried my fair share of diets and pills and shakes.
When I actually found my determination to commit to losing weight (because I've tried many times in the past, but never actually stuck to it), I realised that it was not about a particular product. There was no magical cure for weight loss. It was all about hard work, motivation and accountability.
So here is my story. First, I'll go through the actual process, then I'll share some tips & tricks that helped me immensely.
Nutritionist….and accountability
Looking back, a key factor to losing weight was accountability, and more specifically, accountability towards my nutritionist.
I started working with her after my mom suggested going to a clinic that specializes in weight loss that she had heard of from another friend. She offered to pay my fees (my salary was pretty low at the time) and she helped me stay on track in terms of food (she would sometimes cook for me). (Thanks, mom, you're the best!)
At the clinic I met up with a nutritionist who took me through a 3 month process. At first, she asked about my eating habits, my routines, etc, then she asked me to keep a week-long meal diary and get my blood work done.
One or two weeks later I showed her the results and the diary, and together we formed a weight loss plan personalized for me and my body type. I loved the fact that she taught me what every meal should be like (how much protein for lunch, how many carbs and when to eat them, etc). I also very much appreciated that she suggested meal ideas taking into consideration what I like to eat. 
After that, every two weeks I would come in and weigh myself with the special scale that showed muscle mass and fat percentage, among others. Every two weeks I would hope to see those numbers go down, and most of the time, they did. That, in itself, was a big push forward for me to continue the program. 
This bi-monthly meeting with the nutritionist, a person I was paying big bucks to help me, was the accountability I so desperately needed to actually keep up with the diet, I realized over time. I felt obligated to not cheat and to make sure those numbers go down, because 1) I didn't want to let her down (I'm a people pleaser), 2) I was paying a lot of money and I didn't want it to be for nothing, and 3) once the weight started to come off, it was a push to see how much more I could do. 
The program was over after three months, but I wished I would have continued. I thought that I knew all the basics and that I didn't need her help anymore. Also, I was paying her a lot of money for things I could do myself. The reason I regret stopping was actually the accountability. Having someone to report to every two weeks would have helped me lose even more weight.
Over time, I did put back about ⅓ of it, but I think that's ok, considering that I ate all I wanted most of the time.
Right now I'm trying to implement the diet again (loosely, I'm not very strict about it), because I went overboard in December, with all the sugar and mom's delicious food. And guess what? It's working.
Below you'll find an overview of my actual diet, but I strongly recommend you talk to a nutritionist that can build a diet personalized to you and your body! 
The actual diet that worked for me
I won't give a specific play-by-play of my actual diet per day, because it fluctuated, but I can give you the overall view and the types of food I was allowed to eat and in what way.
First of all, to cut to the chase, the key to my weight loss was the massive reduction of carbs. You've probably heard about it before, and you have for a reason. If you really want to know how to lose weight, cutting back on carbs really does make a huge difference, in my opinion*. Again, for my body type and myself, but I think it can work for most people. I'm not saying to cut it out completely, just to reduce the quantity of it.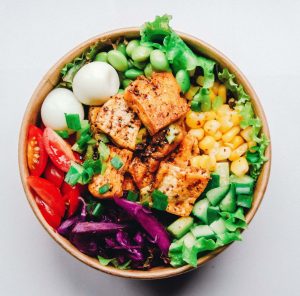 My nutritionist set me up on a daily meal plan that looked something like this:
Breakfast: I would have 100g / 4oz of turkey breast, with a couple of slices of cucumber, grape tomatoes, some feta cheese and olives. Some days, I would switch out the turkey with a plain yoghurt or two boiled eggs.
Lunch: Most of the time, it was chicken or fish, with grilled or boiled vegetables, and a light green salad. Or a big salad with chicken and other vegetables.
Dinner: Soup or a light salad (no meat).
Snacks: 30 g (¼ cup) of simple almonds (not salted) or blueberries, or one small piece of 80% cacao chocolate.
What was off the list:
No bread, bagel, etc;
No potatoes;
Eliminate junk food;
No carrots;
No sweets of any kind;
Less alcohol (1 drink per week);
No sugary drinks (that also meant flavored sparkling water);
It might seem a rather restrictive diet, and it did feel like that in the first two weeks, but after a while my body got used to it and I didn't even crave sweets.  
One thing I really appreciated about her approach was that she told from the beginning that it's ok if I have a slice of pizza or a cookie at work, for example, if everyone is eating it. But just that, nothing more, She preached it's ok to indulge from time to time, but in very low quantities. This way, it won't affect your progress.
Other Tips & Tricks that helped with weight loss
Stay active. Fitness was also supposed to be a big part of my diet, but I admit I wasn't as active as my nutritionist would have liked me to be. She recommended I do some form of exercise 5 times a week, but I think I did it 2-3 times a week. I'm not really into fitness, but I did make an effort during that time, and it did provide results. I highly recommend you incorporate exercise in your diet, it will help and your body needs it.
More Water. This program established my daily habit of drinking 2L / 67 oz of water per day. I still do it to this day, and it has helped, not only clear my skin, but also improve my digestion and dry skin. If this is the only thing you get from this blog post, I will be happy. Just drink more water!
Eliminate temptations. During my three month program I didn't have a single chocolate bar or cookie in my house, and it helped so much. If I don't have it, I can't eat it, right? Same goes with junk food. If you go out with friends, don't hit up McDonalds, try eating at a local restaurant and choose grilled chicken with some veggies. Also, if you know a co-worker is bringing donuts to the kitchen area today, avoid it at all costs. Or until all of them are consumed (it won't take that long, probably).  
Have a meal plan ready. This was extremely helpful, especially when it came to lunch at work. I would make the meal plan for the week on Sunday, then meal prep my food the previous night, so I couldn't order in or eat the French fries from the cafeteria. I also made sure I always had vegetables and yoghurt in my fridge for dinners. 
So here it is! If you're looking into how to lose weight, you've done the first step. You've decided you want a change and are thinking of how to do it. 
Now it's time to take action! You can do it in two ways:
Seek out a professional nutritionist to help you build a personalized program for you;
Start implementing small changes in your routine so you can build up to bigger things. 
I recommend the first way, but if you don't have the resources for it, definitely go on the second route.
You can start by reducing the quantity of carbs in your diet (not eliminate, just reduce) or by having smaller portions of your meals (this is currently helping me a lot). So instead of making yourself a full plate, for example, try filing ¾ of it. Over time, it will make a difference.
Thank you for reading my story and I hope it will help you in yours! Let me know what has worked for you in the past in terms of weight loss, I would love to know!
p.s. If you're having trouble eliminating temptations from your home, try re-organizing your pantry and stocking it the right way.
*I am not a registered nutritionist or a doctor, I cannot give you professional advice. This is strictly my point of view and what worked for me. Please refer to a nutritionist or a doctor for weight loss help.