Low carb low sugar snacks are not that hard to find, you know.
If you're on a keto diet, or want to lose weight, or just looking for some healthy, I'm here to tell you there are plenty of options for low carb low sugar snacks. Below you'll find 6, but there are so much more out there. I'm just sharing my favorite snacks, the ones I reach for the most.
Before, my idea of snacks was a chocolate bar (Snickers for the win). Or 2-3 chocolate chip cookies. Or a bag of Doritos. That was between lunch and dinner. After dinner, me and my boyfriend would have cake, or ice-cream, or a slice of bread with A LOT of Nutella spread on top of it.
Fast forward to the beginning of this month, when I realised I was eating too much, especially too much junk food and sweets. So I committed to a month of no sugar (or very low sugar) and so far, so good. The only snacking I'm doing is around the 3-4 pm time stamp, when I need it the most. I try to refrain from eating anything after dinner, but if I must, I grab a couple of walnuts.
It's not my first endeavor in the low carb low sugar snacks game, you know. Two years ago I went through a two month weight loss program, where I lost 22lbs and I used the same principles back then, too. They definitely helped with the craving and the hunger, so I hope they can help you, too.
If you don't like any of the options below, feel free to have something else, but make sure you know the nutritional information for it. It's something I learned during that period and I still apply to this day.
I learned the main categories of nutrients (protein, carbohydrates, fat, fiber, etc.), and most importantly, I learned how to classify the most consumed food in my meal plan. This helped me, in turn, know what I am eating, and what I should be cutting or adding from my diet.
For example, I know now that carbs means potatoes, bread, chocolate bars, bakery, cookies, etc. I know meat, milk, yoghurt and cheese are high in protein. And I know I need to eat plenty of vegetables, because they are low in calories and high in nutrients.
By knowing this (and some other nutritional information), I can create a meal and snacking plan which limits the use of carbs and sugar. Not eliminate, just use as little as possible.
Since snacking is so important because most of us do it, it's important to know how to do it appropriately. So here are 6 low carb low sugar snacks to help get through the day.
Nuts, especially pecans and walnuts
This is, actually, my favorite snack out of the 6, and the one I reach for the most. I usually buy big bags of pecans and walnuts (and sometimes hazelnuts), and make myself a bowl of nuts. I don't consume it in one sitting, of course, but stretch it for a week, if I can (spoiler alert: I can't, it's usually gone in 5 days tops).
Pecans are a great choice of low carb low sugar snacks because they taste sweet, but they have 14g of Carbs per 100g of product. So as long as you stick to 30g of pecans per serving, you're good.
Walnuts are low in carbs and sugar, and most importantly, have many health benefits. It is said to be useful in weight loss, that they are helpful for brain function, and that they also improve quality of sleep and….sperm. 100g of Walnuts have about 14g of Carbs and 3g of Sugar.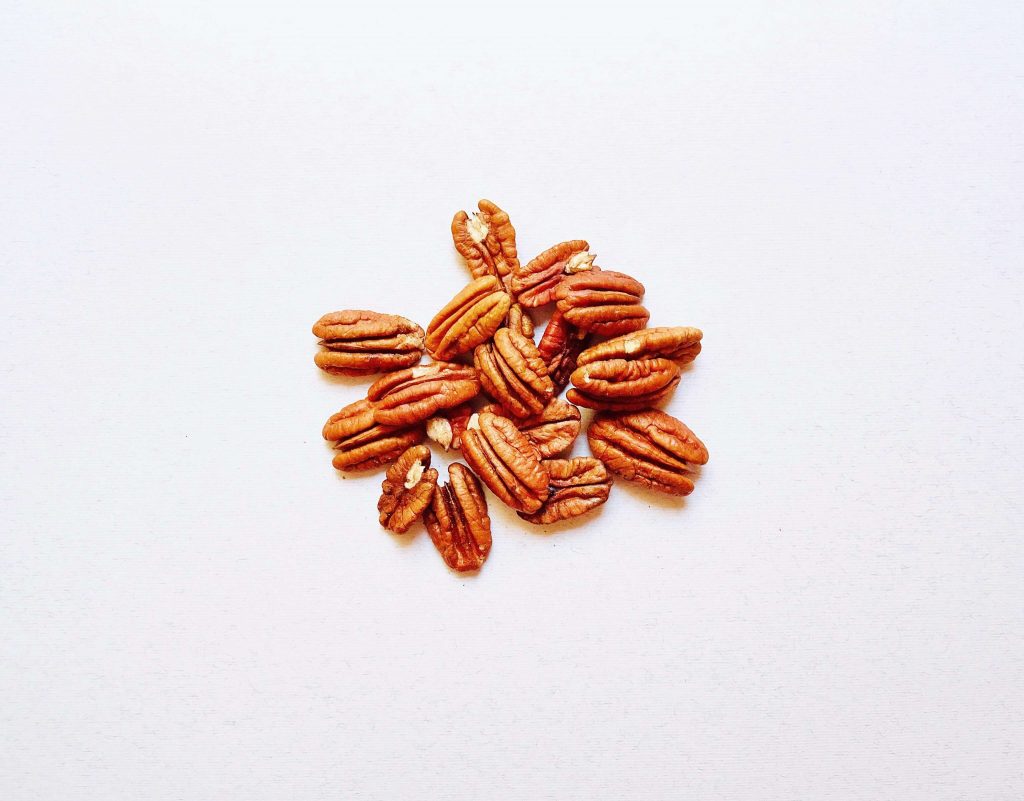 Yogurt
If you're the type of person who loves yoghurts or smoothies, this might be a great solution for you. But before you run out to get some chocolate Chobani or something similar, I have to urge you to only buy and consume the plain yoghurt type. You probably already know that the flavored ones have sugar in it, so you have to stay away from those.
Next time you go to the supermarket, go to the plain yoghurt section and check the labels for nutritional data. Choose the ones that have the least amount of carbs and sugar (ideally, under 5g for each). Fun fact: you might be surprised to discover that some 0% fat have more carbs than the usual ones. So please check the nutritional data on the back of the product.
String Cheese
Great news: most mozzarella sticks have less than 1 gram of carbs per serving (one stick)! That's amazing! And to add to that, they also have about 6 grams of protein, which is great for building muscle and losing fat, so go for it.
Next time you're buying some for your kids (or partner), get some for yourself, they are a quick snack to have, easy to carry and consume on the go.
With the risk of repeating myself, please check the back of the package and go for the one with great nutritional numbers, some types of cheese have more carbs or sugar.
Hard boiled egg
Hard boiled eggs are a good choice if you want a filling option, one that does not feel like a snack. Eggs are very low in Carbs and Sugar, but they do contain cholesterol, so it's recommended to stick to 2 eggs a day.
I recommend boiling 6-10 eggs on Sunday, to have on hand for the next week. Just pop one out, put some salt on it, if you want, and there you go! Hunger subsided.
Carrots
If you love veggies and have no problem eating them, definitely try carrots. I personally love them because they are refreshing and crunchy.
For one large carrot (roughly 72g) you get 7g of Carbs, and 3g of it are sugars; these are great numbers for healthy snacking. Just be cautious about them, I know my nutritionist recommended I don't eat large quantities, since they do contain carbs.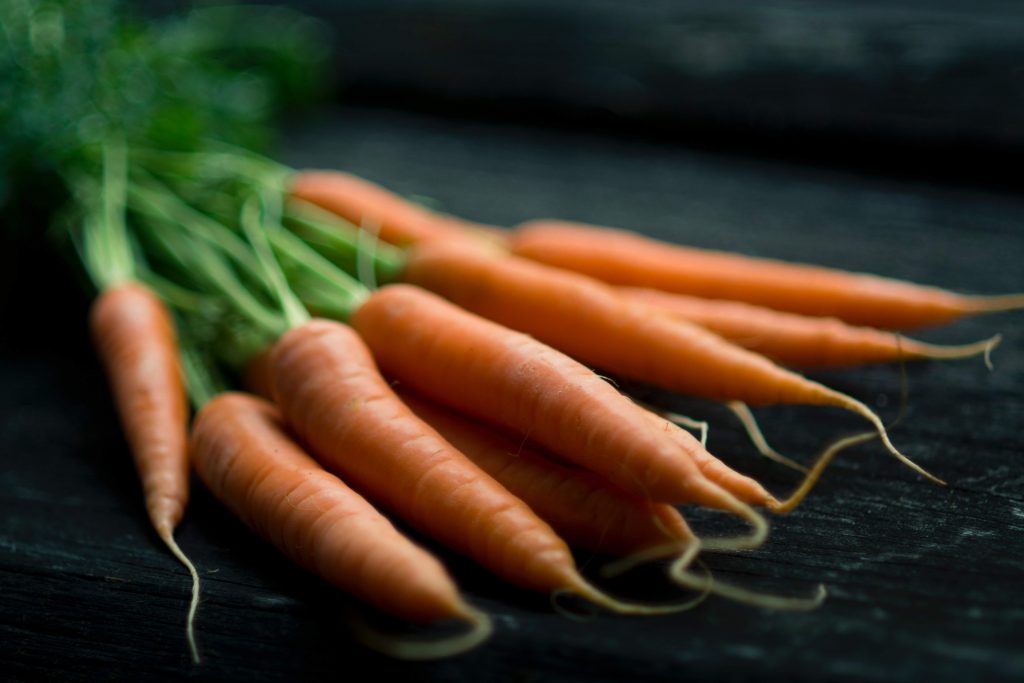 Peanut butter
The last item on the low carb low sugar snacks list is everybody's favorite: peanut butter. Yes, you can eat peanut butter, in decent sized quantities (1-2 spoons of it).
The crucial aspect when it comes to peanut butter consumption is if it has added sugars in it or not. Always go for the natural, organic one, with no extra ingredients. I use Meridian Smooth Peanut Butter. It has 11.6g of Carbs and 5g of Sugar for 100g, which is ⅓ of the container, so a spoonful will have considerably less than that.
So there we go: my list of 6 low carb low sugar snacks that I reach for the most! Like I said before, there are plenty more choices out there. The important thing is to make sure you know the nutritional data for it before you consume it. You might find a delicious snack you didn't even consider trying.
Let me know in the comments what your favorite snacks are. Preferably healthy, so that we don't all start craving Doritos and chocolate while reading the comment section 🙂
*This post contains Amazon affiliate links, which means that I may receive a commission if you make a purchase using these links, at no extra cost to you.