This year, staycations are the way to go!
In a time when the tourism industry is heavily affected by the pandemic, because of travel restrictions and country-specific rules like quarantine after entry, staycations have become the norm.
Probably because people are afraid to travel during these uncertain times. When the virus is so easily transmitted, it is said an enclosed space like an airplane could be a great place to catch it. So most avoid it, in order to stay safe and healthy, which is totally understandable.
That's why I think most people will resort to staycations in 2020, 2021, maybe even 2022. If you're here, you're probably one of those people, too. (I know I certainly am)
And while you might think this is horrible news, I am here to help you realize that you can definitely travel and make wonderful memories in your own country.
I've compiled 13 staycation ideas to help you enjoy your vacation this year. Two of them require minimum planning, while the third can be more complex and will require some time set aside for figuring out what you actually want to do.
The staycation ideas have no specific person limit. You can do it with your partner, or with your family, or you can arrange a vacation for a larger group. You can even go solo (just please exercise caution). It's your choice.
They are split in three big categories, but the first two have at least 5 staycation ideas you can try. The third is a beast in itself, and needs a plan of its own.
Without further ado, here are the top 13 staycation ideas when you can't travel internationally:
Day trips
This is the easiest version of a staycation, but it doesn't mean it can't be fun.
The day trip is pretty self explanatory. You take only a day to go into an adventure. It's usually pretty close to home, because you need to travel to and back from. I recommend you leave as early as you can in the morning, so you don't have to return too late into the night.
Where should you go? So many one day staycation ideas to choose from:
Local national park, for a hike.
An amusement / adventure park.
Walk / hike in a nearby forest trail, or by the lake. Please don't go alone, always have at least one other person with you.
Beach day, if you're lucky enough to live close to a beach.
Local farm, for fruit picking or for watching the animals. (recommended for families)
Other attractions / Museums. For example, World's Largest Ball of Rubber Bands, in Wilmington, Delaware.
Shopping. Some states have very large shopping outlets / malls where you can get great deals. Disclaimer: I know some might not consider this an actual vacation, but to each its own.
How to plan a one day staycation? Just research your area for a 100-200 miles radius, and pick something you always wanted to visit. Fill up your tank and go on an adventure! Have fun!
Weekend getaways
You might read "Weekend getaway" and think of a romantic weekend in two at a cabin, during winter, all white and cozy. You're not particularly wrong, that was my inspiration.
But you can take a weekend trip anywhere, with anyone you want, anytime.
How? Plan one weekend, either Friday to Sunday, or Saturday and Sunday, away. Find the location, book the accommodation, and you're done. You can choose from the following weekend staycation ideas:
Romantic getaway. I recommend a cabin in the mountainside, or a rented apartment on the beach. Perfect for couples.
Rent a beach house for you and your friends. Maybe to celebrate the 4th of July? Or someone's birthday? You don't really need a reason, just go for it.
Go to Disneyland. Perfect trip for people with kids, but definitely not only for them. Book your fairytale vacation now!
Camping with family. This could be so much fun. I can just imagine the camp fires, the s'mores, the laughs, the games. I wish I could go camping right now.
Big City (lights). I used to do this when I was younger with my girlfriends. I would choose one of the bigger cities (New York, Las Vegas, San Francisco) and fly in for a weekend. We would do sightseeing, eat delicious food, go to bars, and just explore the town.
Cross-country road trip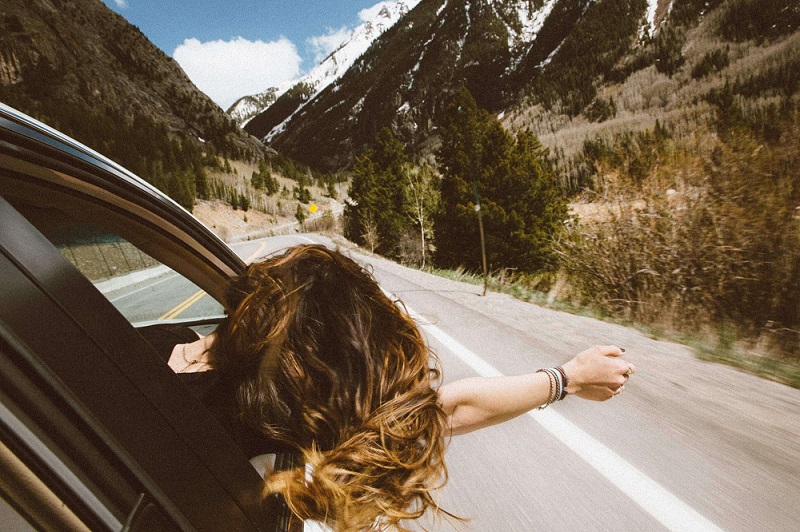 If you really want to feel like you're travelling, you need to plan a cross-country road trip. Now, I'm not saying that you should go from Los Angeles to New York, but I do mean you should travel through at least 4 different states.
This type of staycation idea is not as easy to plan as the first two. That's because you need to actually sit down and figure out your itinerary. What's your starting point, what do you want to visit on the road, and where is your end point (or where you plan to turn around home). After that, you need to secure accommodation for each stopping point.
It might take a while to plan, but I bet it's going to be worth it. Imagine 1, 2, maybe even 3 weeks on the road with your partner, friends or family, discovering new places and exploring your country. You will have so much fun!
This type of staycation is, obviously, best suited for driving (car, RV, you name it), but you can also fly to a place and then explore the cities and places in that area. Whatever feels good!
So here we are: 13 staycation ideas for this summer! What are you choosing?
P,S. If you need to save money to plan a staycation, find out how to save money!