"Can you start the Netflix show, please?"- a phrase that my boyfriend is probably sick of by now.
During quarantine and self isolation one of our main activities was to watch TV, and Netflix was our preferred channel. What else could we have done, right?
Lucky for us, there is a loooong list of Netflix shows we can watch… and we have watched quite a few in the last year. I'm sure most of you would probably say the same.
So if you, just like me, have reached that dreaded point where you ask yourself (and others) "What should I watch on Netflix next?", then I am here to help.
I've compiled a list of Netflix shows and other miniseries that you can watch anytime (most of them are Netflix originals).
Drama / Action / Thriller
The Crown. This is what we're watching now, even though we are pretty late to the game. We love it. My boyfriend is a history buff and gets a kick out of the many events that are highlighted in it. And I love all the acting and wonderful sets and music. Win for both of us. I highly recommend it.
House of Cards. I'm going to be honest with you and say that I haven't watched this yet, but I have heard only good things. If you're into politics and high stakes drama, this is for you.
Narcos. One of my all time favorites. A show about one of the biggest drug cartels in the world and its leader. It also has Pedro Pascal in it. Need I say more? Just watch it.
The Queen's Gambit. This show took the internet by storm in 2020 and with good reason. A show about a young woman who is a chess wizard. Cool plotline and very cool wardrobe and music.
Money Heist. This might put some people off because it's in Spanish, but don't be fooled by it. It's one of the smartest shows out there, and very well acted. Definitely try it if you're into action movies, it's thrilling.
Peaky Blinders. Another all time favorite. You can't not fall in love with Thomas Shelby. I mean, look at him (pic below). The show is alert, gritty, slightly violent at times, but very entertaining. I also highly recommend it.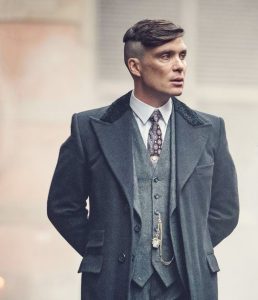 Mindhunter. This might not be for everyone, but if you like crime shows and podcasts, you will love this one, too. It's about the formation of the FBI Behavioral Unit and has "guest" appearances by Charles Manson and Ed Kemper.
Comedies
Orange is the new black. This is one of the first Netflix shows I ever watched. I've only gotten through the first two seasons, but they're pretty interesting and funny. It's about life in a women's prison.
Community. I think this was originally on NBC. It's a show about a group of very different people going to Community college. Very sweet and funny. If you've finished Friends and are looking for another short TV episode you can indulge from time to time, check this one out.
Big Bang Theory. This is Friend for nerds. I'm kidding, it's not that dramatic and cool. But it is very nerdy and pretty funny. Again, short episodes for the win.
Schitt's Creek. I haven't watched this, either, but everyone is raving about it, so you should try it.
The Good Place. The cast alone makes it watchable and it has an interesting plot line of purgatory, so it could be a great pick for your next Netflix show.
The Duchess. This has flown under the radar, but I've heard a lot of great things about it. A show about a loud single mom who is navigating life. Check

the Duchess trailer

on YouTube and you might be convinced.
After Life. This is a Ricky Gervais show about a man who contemplates life (and suicide) after his wife dies. My friends love it, maybe you will, too.
Grace and Frankie. A Jane Fonda tv show about two older women who thrive after finding out their husbands are gay….and in love with each other. What a plot line, huh?
Reality TV Shows & Special Miniseries
Selling Sunset. This was a 2020 find for me. A reality show about realtors who sell million dollar houses in Hollywood. Add drama to it and you have a very entertaining show. I really liked it.
RuPaul's Drag Race. This has been going for at least….what, 15-16 seasons? And for good reasons. It's funny and glamorous and you can't stop rooting for the contestants. 
Love is Blind. The concept might not be new, but the discussions about it are endless. Caused quite a stir when it first came out. If you like the Bachelor and Love Island, you might like this, too.
Queer Eye. In my opinion, this is one of the best Netflix shows out there, just because it's sweet, uplifting, always has a positive tone, and the guys are so nice. A good show to put you in a good mood. 
Tiger king. This has to be one of the most bewildering shows that Netflix has ever produced. I can't even begin to explain what it is about, but it's fascinating and you should watch it.
Tidying up with Marie Kondo. All hail the organization queen, Marie Kondo. If you're in a decluttering mood or like organization and cleaning, this show is for you.
Cheer. This was a nice surprise for me. I wouldn't normally watch this, but my niece just became a cheerleader, so I wanted to get a glimpse into this world. And wow, did I get a surprise. Didn't expect it to be so athletic and competitional. 
Fantasy & Sci Fi & co
Witcher. I admit, I wanted to watch this for Henry Cavill. I did it, and I wasn't disappointed, neither by Cavill, nor by the show 🙂 It was intriguing, well made, with interesting characters and storyline, and great sets, costumes and special effects.
Umbrella Academy. One of my favorite Netflix shows currently. If you're a bit nerdy and like comic books or superhero movies, you will love this. And even if you don't, you will still adore Klaus, a quirky almost-always-drunk gay superhero who can communicate with the dead. Trust me, just try it.
Star Trek: The Next Generation. Haven't watched this, either, but I imagine Star Trek fans must be buzzing.
Stranger Things. This is probably one of the most successful shows Netflix has ever produced, and with good reason. Intriguing plot line, lovable characters, 80s throwback. Throw in a bad guy and spooky vibes, and you have a winner.
There are so many other Netflix shows, but I tried to stick to these ones.
What do you watch on Netflix? What do you recommend?
p.s. If you're loved Marie Kondo and are in a decluttering mode, check out my process of wardrobe declutter, it's pretty easy and straightforward!