"A classic wardrobe is so much better than a trendy one". That's what my mom used to say to my 18-year old self when I would ask her for money for the newest fashion trend.
At that time, I didn't understand, because all my friends would flaunt their new purchases. I still remember the low-rise jeans trend that I hated, but ended it buying because of peer pressure. I had (and still have) a bit of a tummy, so they definitely didn't flatter me, but I still bought them.
I'm sure you've done the same things over time. Whilst it's understandable in your teens or young adult phase, your mature self knows better.
When we reach a certain age, we realize that following trends is not necessary. Instead, we value two things:
Fashion Items that look good on US and our body shape;
Fashion Items in which we feel comfortable and good.
This is where a classic wardrobe comes into play. In order to make sure you always look good, you need to have a few classic wardrobe essentials that you can use in more than one way.
These classic fashion items should be simple, yet of great quality, and most importantly, they should look good on you. That's it. It's all you need to have a great wardrobe and style.
Having a classic wardrobe will help in more than one way:
It will help you save money over time.
If you don't need to buy something new (and most probably expensive) every season, then you can save money for other things, like vacations, new house, home renovations, etc.
Your closet will only include items that make you look good….anytime and anywhere.
This means you won't have a Fedora hat that was trendy 5 years ago, but you can't wear it now. Or safari culottes that you can only pack for your tropical vacation. You will only have classic wardrobe essentials that you can wear in your day-to-day life. Simple and efficient.
You will have more space in your closet.
More space for bags, or for more pairs of jeans. Or more space for your books or skincare routine. And that's valuable, because we all need more space in our house, am I right?
I hope that by this point I have convinced you that you need a classic wardrobe.
If you want to build one and have classic wardrobe essentials in your closet, here is what you need.
Wardrobe Item 1: Button-up shirt.
This might not seem like an obvious choice for the classic wardrobe, but it is. Especially if you have an office job or if you work with clients. Or if you need to go to an interview. Or to a fancier place, and you don't like dresses.
Basically, you need a button-up shirt in your life. Here are a few of my favorites, which you can pair with jeans, trousers, skirts, and the list goes on:
White shirt- Cantonwalker Women's Button Blouse *
Blue shirt- Atnlewhi Womens Long Sleeve Button Down Shirts *
Wardrobe Item 2: Nice pair of Jeans.
For me, this is the most basic clothing item you should own. I don't think there are a lot of people out there who don't own at least one pair.
The key here is to have one or two pairs of jeans that look good on you, and that you like wearing. So no extra tight jeans, or low-rise (if you don't enjoy that).
I suggest investing in a good pair, either from Levi's or a more expensive brand.
Also, consider buying two pairs. One in black, preferably skinny, so you can wear it with tunics, long cardigans. And one in blue, for a more classic look.
Here are two Amazon Jeans I liked:
LEE Women's Flex Motion Regular Fit Straight Leg Jean in Blue *
Levi's Women's 311 Shaping Skinny Jeans in Black *
Wardrobe Item 3: Simple T-shirt.
This should be the easiest to tick off the list. A T-shirt. One to wear with jeans, with joggers, with skirts. The possibilities are endless.
Most people would recommend simple t-shirts with no graphics, just plain color. But I don't mind a simple graphic or quote on it. It would actually make an outfit more interesting.
For the sake of diversity and of the mix-and-match process, though, I recommend a plain white T-Shirt, and a graphic one.
Here are two examples of t-shirts you could have in your classic wardrobe:
Wardrobe Item 4: Little Black Dress.
Are you imagining Audrey Hepburn in "Breakfast at Tiffany's" right now? Because I am. Anyway, you need something similar in your wardrobe. Black dress, no frills, middle length, and most importantly, a dress that suits your body type. If you have a great body, try bodycon. If you have a pear shape, you can have an A-Line skirt dress. Figure out what looks best on you and get in black.
It will save you in so many situations: weddings, office parties, fancy dates, and so on.
When it comes to little black dresses, I suggest going to ASOS, you have so many options available:
Wardrobe Item 5: Sweater.
What would we do without sweaters (or jumpers, for the British)? This is a vital item in your classic wardrobe. Mostly because you need to keep warm. Also because it can be beautifully styled with jeans, skirts, dresses, even shorts. Just go to Pinterest and you will find so many options…
When it comes to sweaters, there is no clear indications on what to get, although I do have two recommendations:
No Christmas sweaters 🙂
Go for a simple shape and color, like beige or burgundy.
Here are my suggestions for classic sweaters to have in your wardrobe:
Wardrobe Item 6: Coat.
Initially, I said a Winter Coat, but some people might be lucky enough to not have bad winters, so I stuck to Coats. You need an autumn or winter coat in your classic wardrobe, if not for the actual seasons, at least for all the travelling you will be doing (you'll most likely got to colder climates, too).
This is one item I recommend you splurge one. One, because you need a good, quality coat that can keep you warm. And two, because you won't need to buy one every year, so you need to make sure this one will last longer.
You can go for the classic route, and by that, I mean wool, for example. Or if you prefer comfort and are not the dressing up kind, go for a puffer jacket.
Here are some coates that caught my eye:
Wardrobe Item 7: Leather Jacket.
I'll be honest. You don't really NEED a leather jacket in your wardrobe. But you would look so much cooler and stylish if you had one.
This is one of my favorite pieces to have. I usually wear it in the spring and autumn, over t-shirts, or sweaters, with some jeans and Chelsea boots. Put some sunglasses on and some jewelry, and I am ready to conquer the world.
I think you can benefit from this fashion item, too. Here are some leather jackets I have my eye on Amazon:
Wardrobe Item 8: Black (or Brown) Bag.
Since most of us can't just leave the house with just a card in hand, we obviously need a nice bag to put our stuff into, right?
Just like shirts or jeans, you can find cheaper versions on the market. But also expensive ones (like Dior or Celine). But you could do what I do: go to the middle.
I like to invest some money in my bags, since I usually carry one for 1-2 years before switching to a new one. But I don't do designer bags. I like to keep them between the 50-200 $ mark.
So here are some of the bags I love and I think you might like, too:
Wardrobe Item 9: Flat shoe.
The reason behind this is similar to the shirt one. You need simple flat shoes for moments where you can't wear sport shoes. So, to the office, to interviews, and with skirts, dresses, jeans, trousers, and so on.
You might not wear them that much in your day-to-day activities, but trust me, you need a pair in your life.
Here are two simple and classic example of flat shoes:
Wardrobe Item 10: Black Heel Shoe.
Another item you don't wear all the time (well, some of us don't), but that you desperately need. High Heeled Shoes. What for, you might ask? Simple: weddings, parties, fancy dates.
Honestly, I don't like them either, and I rarely wear them (once or twice a year), but I do think high heels are very important to a classic wardrobe.
Here are my top picks:
Wardrobe Item 11: Sports shoes.
The final category might be my (and everybody's) favorite: sport shoes. Comfortable shoes you can put on quickly and go to the supermarket. Or to run errands. For anything, really.
Here is where you can go crazy and pick, honestly, whatever you want. Again, I recommend going the simple & classic look, like Adidas Superstar, but it's your call.
Here are my favorite sports shoes:
So here we are: 11 Classic Wardrobe Essentials You Need to Have! I hope it was useful and helpful!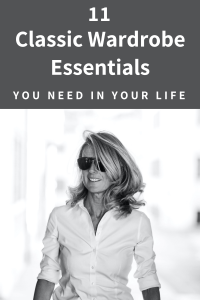 Let me know in the comments if I have forgotten anything to add, and what do you think there should be in a classic wardrobe!
p,s, If you want to know how I get out the house fast, here is my quick morning routine!
*This post may contain affiliate links, which means that I may receive a commission if you make a purchase using these links, at no extra cost to you. As an Amazon Associate I earn from qualifying purchases.