My go-to healthy summer salad recipe is incredibly simple to make. You just need to chop up your veggies, dump them in a salad bowl and add some salt, olive oil and vinegar. The secret to its tastiness is in the final ingredient, which you can see below.
Salads are always a thing in our household during summer, even though I try to make them year round. But there's something about a healthy summer salad recipe that makes you feel better and….healthier. It's also so needed, for our digestive system and our overall health.
That's why I've been experimenting with many salad recipes recently. But I always come back to this one because it has good, easy-to-find ingredients that I usually already stock up in my fridge, so I can quickly make it.
I bet most of us have greens, some tomatoes, onion and avocado in our fridge, so that's why it's so easy to make. What makes the healthy summer salad recipe even better (and crunchier) are the sunflower seeds. Try it! It gives a crunch and it mixes to well with the vegetables and cheese.
So here is my go-to healthy summer salad recipe, done in 10 minutes:
INGREDIENTS
Lettuce
8-10 Cherry Tomatoes
4-5 Radishes
½ White Onion
1 Avocado
1 Green Peppers
Feta Cheese
Sunflower Seeds
DRESSING
1-2 tablespoons Olive Oil
2-3 tablespoons Apple Cider Vinegar / Balsamic Vinegar
Salt & Pepper to taste
Healthy Summer Salad Recipe
Short version of the recipe: chop them all up and mix them with the dressing.
Long version:
Chop lettuce (or any other greens you want).
Cut in half all the cherry tomatoes, then cut up the radishes and green peppers. If you have cucumbers in your fridge, add those, too. I always add them to my salads, but I didn't have any at the moment of making this.
Chop in small pieces half of a white onion.
Cut in small cubes the feta cheese or use feta crumbles.
Add all to a big bowl of salad.
Split the avocado in two, take out the core, and start making horizontal lines, then vertical ones with the knife, directly on the avocado halves. Then use a spoon to put the pieces in the salad bowl.
Sprinkle ¼ cup of sunflower seeds (or as much as you like).
At the end, you can either make the dressing separately, in a bowl, then add it to the salad, or you add the dressing ingredients directly in the salad bowl and mix, that's how I like to do it.
Voila! Bon Appetit!
I love this healthy summer salad recipe! It's so easy and fast to put together, and me and my partner devour it each time I make it.
What do you think? Like it? Let me know in the comments your version of summer salads.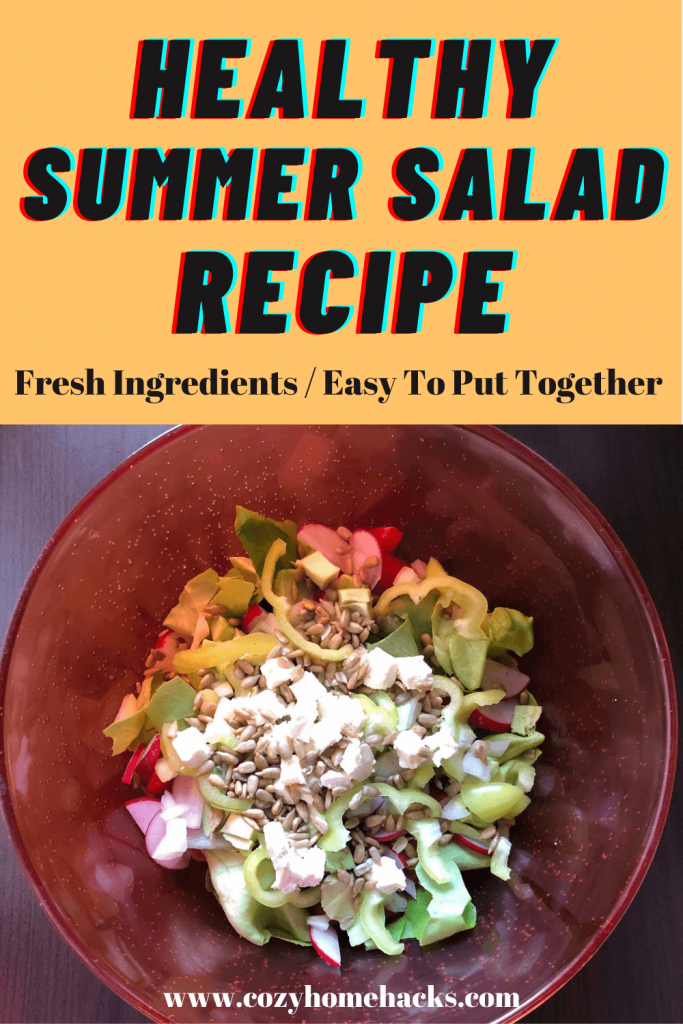 p.s. If you're looking for other homemade recipes, check out this Homemade Chili Recipe or this Brownie Recipe.